Downtown Oroville is excited to share with you that, after over a year of planning and development, the "Downtown Oroville Light Pole Project" is complete. The passion behind the project was to restore the twenty-five historic light poles that run along Montgomery and Myers Streets to their original glory.
Along with the restoration of the light poles, we wanted to turn each pole into a work of art with lush floral hanging pots and banners depicting stunning artistic renderings of Oroville's key landmarks. These landmark flags, created by local artist Jake Early, celebrate Oroville's outdoor gems as well as our cultural history.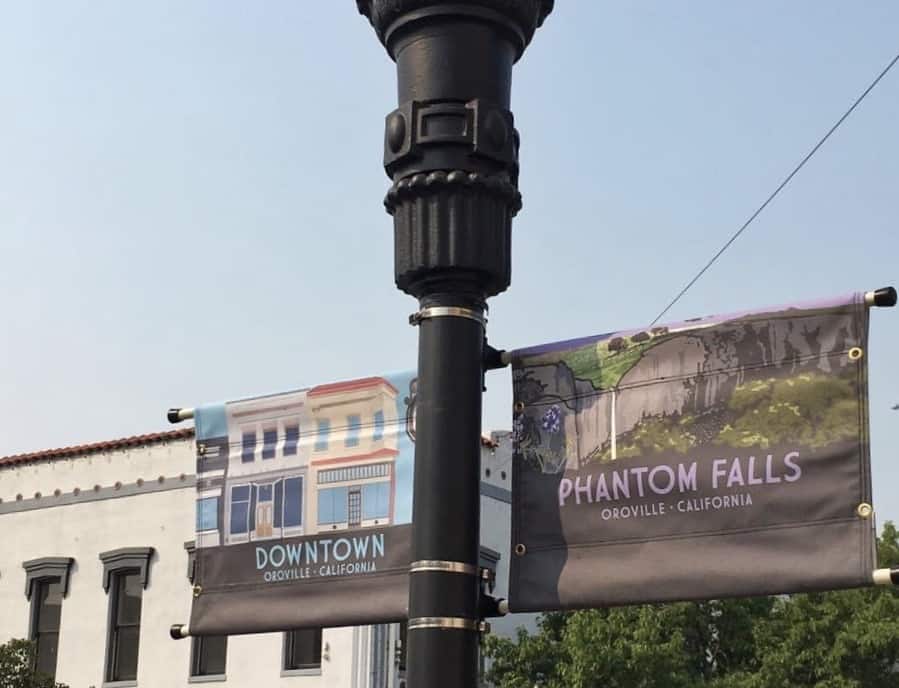 The design concept is a simple and elegant combination of materials, textures, colors, and design all working in unison to make the new light poles functioning works of art in their own right. The fresh paint, black metal brackets and hooks, and the lush green hanging plants create a symphony of textures and colors that serve to enhance the stunning artwork splashed across the vinyl flags.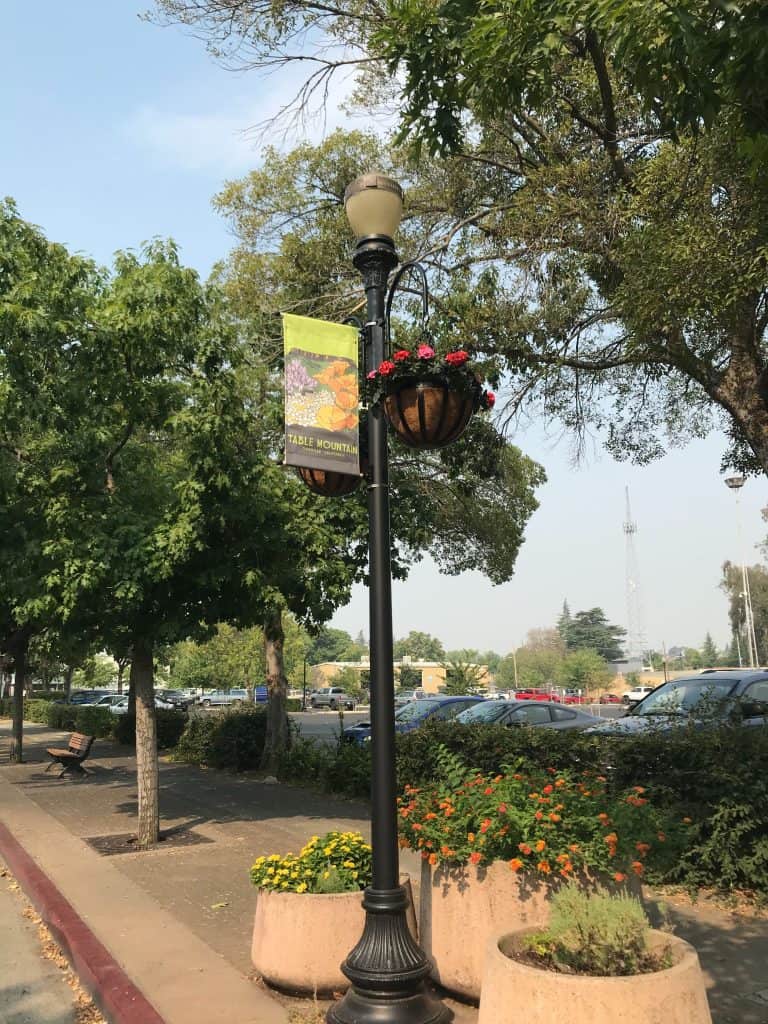 This project not only benefits the Downtown area but the Oroville community as a whole, by taking a giant step towards preserving and restoring our town's vital history.
We invite you to take a drive or a stroll through Historic Downtown Oroville to see for yourself!
A BIG thank you goes out to the Oroville Arts Commission for funding this project and sharing in our vision.
We would also like to thank the following folks without whom we could not have pulled this off.
Karissa Nelson of Nelson's footwear & ODBA Board Member, for leading this project and the Downtown Beautification Team from start to finish.
Metal Works: Made flag brackets, hanging baskets, and brackets.
Jake Early: For bringing our vision for the banner flags to life.
B & B Painting: Painted light poles and cleaned glass fixtures.
Gallery Interiors (and family): Ordered and arranged floral baskets
Dirk's Transmission: Loaned us their scissor lift.
PG&E: Cutting the black chain into the needed lengths, saving us time.
Dedicated Downtown Volunteers: Installation of flower pots and flags.
We could not have done this without you all!